Posted on Sunday, January 09, 2022 09:43 AM
SERIOUS MOTOR VEHICLE COLLISION
Pedestrian Struck
LONDON, ON (January 9, 2022) –The London Police Service is asking the public to avoid the area of Wellington Street and King Street due to a serious collision.
At approximately 6:16 a.m., emergency crews responded to the area for a report of a pedestrian struck by a motor vehicle.
One female pedestrian was transported to hospital with serious injuries.
The investigation has been reassigned to members of our Traffic Management Unit, and...
Posted on Tuesday, January 04, 2022 01:19 PM
PROGRESS PRIDE FLAG BURNED
Seeking the public's assistance
LONDON, ON (January 4, 2022) – Members of the London Police Service are investigating property damage that took place in north-west London.
On Monday, January 3, 2022, police attended Winding Woods Road in relation to a report that a burnt Progress Pride Flag had been located by a citizen.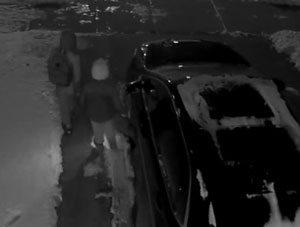 The flag is believed to have been removed from outside a residence on Winding Woods Road between 1 – 2 a.m Monday morning. The damaged remnants...
Posted on Friday, December 31, 2021 11:03 AM
Property damage to multiple businesses
One male in custody
LONDON, ON (December 31, 2021) – On December 27, 2021, at approximately 10:15 a.m. a male entered into a LCBO located at 3050 Wonderland Road S. The male pulled out an axe and began smashing bottles inside the store, causing approximately $20,000 in damage. No injuries resulted from the incident.
A description was provided to officers and the male was located and arrested a short distance away.
On December 30, 2021, at 4:40 p.m. the same...
Posted on Thursday, December 23, 2021 03:08 PM
New London Police Services Board Member, Ms. Megan Walker
The London Police Services Board (LPSB) is pleased to announce that Ms. Megan Walker has been appointed by The Honourable Sylvia Jones, Solicitor General of Ontario, for a 2 month term, January 1 to February 28, 2022, pending processing of her Order in Council for a 3 year appointment to the Board. Ms. Walker will take her LPSB Oath of Office January 4, 2022.
Megan Walker has been involved in the London community since early...
Posted on Wednesday, December 22, 2021 02:24 PM
CHARGES LAID IN RELATION TO STREET-LEVEL ROBBERY
22-year-old male arrested
LONDON, ON (December 22, 2021) – On Friday December 17, 2021, at approximately 1:45 a.m, a 56-year-old woman was walking in the area of Wellington Street and Queens Avenue when a man, who was unknown to her, yelled at and followed her before eventually grabbing her from behind, stealing her purse and fleeing into Victoria Park. Fortunately, no injuries resulted from this confrontation.
Video of the robbery was obtained...