Posted on Friday, January 07, 2022 09:29 AM
FATAL COLLISION IN SOUTH END OF CITY
UPDATE – LONDON, ON (January 7, 2022) – Members of the LPS Traffic Management Unit continue to investigate a serious motor vehicle collision that took place yesterday evening.
The 36-year-old female driver of one of the vehicles was pronounced deceased at the scene, and the 22-year-old male driver of the second vehicle remains in hospital in critical condition.
The name of the female driver will not be released at the request of family.
Anyone with information...
Posted on Wednesday, January 05, 2022 01:42 PM
BOMB THREAT
Investigation ongoing
LONDON, ON (January 5, 2022) – At approximately 9:15 a.m., members of the London Police Service responded to the 400-block of Richmond Street in relation to a bomb threat received at a downtown restaurant.
The business was evacuated while police searched both inside and outside of the building with the assistance of an LPS Police Service Dog. Nothing suspicious was located and London police continue to investigate this matter.
Anyone with information in relation...
Posted on Tuesday, January 04, 2022 01:19 PM
PROGRESS PRIDE FLAG BURNED
Seeking the public's assistance
LONDON, ON (January 4, 2022) – Members of the London Police Service are investigating property damage that took place in north-west London.
On Monday, January 3, 2022, police attended Winding Woods Road in relation to a report that a burnt Progress Pride Flag had been located by a citizen.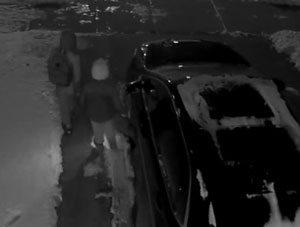 The flag is believed to have been removed from outside a residence on Winding Woods Road between 1 – 2 a.m Monday morning. The damaged remnants...
Posted on Friday, December 31, 2021 03:09 PM
LONDON POLICE OFFICER FACING CHARGES RELATING TO OFF-DUTY INCIDENT
LONDON, ON (December 31, 2021) – A 37-year-old London police officer has been charged by Ontario Provincial Police (OPP) with being unlawfully in a dwelling house and operation of a motor vehicle while impaired in relation to an off-duty incident.
In order to protect the identity of the complainant, the officer's name will not be released.
The officer, who has 14 years of service with the London Police, has been suspended with...
Posted on Friday, December 31, 2021 11:03 AM
Property damage to multiple businesses
One male in custody
LONDON, ON (December 31, 2021) – On December 27, 2021, at approximately 10:15 a.m. a male entered into a LCBO located at 3050 Wonderland Road S. The male pulled out an axe and began smashing bottles inside the store, causing approximately $20,000 in damage. No injuries resulted from the incident.
A description was provided to officers and the male was located and arrested a short distance away.
On December 30, 2021, at 4:40 p.m. the same...